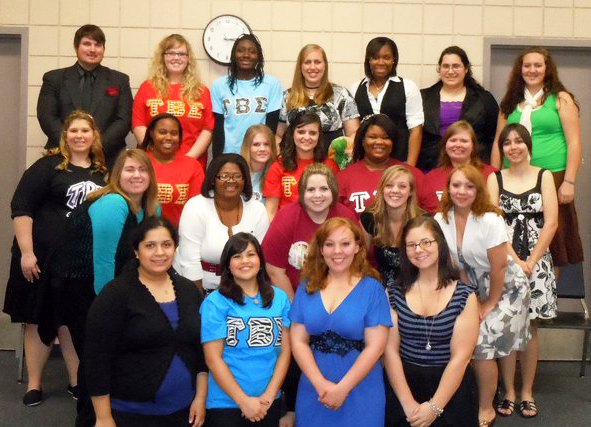 G A M M A T A U M I S S I O N S T A T E M E N T
The sisters and brothers of the Gamma Tau chapter of Tau Beta Sigma are dedicated to serving the UCA band in all of its endeavors to advance the music program at the University of Central Arkansas. As we maintain the laws of this society of upstanding young women and men, we also strive to uphold the ideals of the band program and that of affiliated programs and organizations.
F O U N D E D
February 17, 1967, along with the Epsilon Beta chapter of Kappa Kappa Psi.
M A N D A S M A L L W O O D
Chapter President
---
INITIATED
Spring 2008, Callie's Charming Chicas
PAST OFFICES
Gamma Tau's Special Sister 2010-2011
2nd Vice Present 2009-2010
EVENTS ATTENDED
Southwest District Convention 2011, 2010, 2009, 2008
INSTRUMENT
Clarinet
MAJOR
Mass Communication
Print Journalism
MINOR
Marketing
CLASS
Graduating Senior
BIG SIS
Chante Rogers
BIG BRO
Chris White
LIL SIS
Chelitha Bryant
Kelsey Lundburg
LIL BRO
W H I T N E Y S T R I C K L A N D
1st Vice President -- Membership Educator
---
INITIATED
Spring 2008, Callie's Charming Chicas
PAST OFFICES
Recording Secretary 2010 Spring
EVENTS ATTENDED
Southwest District Convention 2010
INSTRUMENT
Horn
CURRENT ENSEMBLES
UCA Wind Ensemble
Ursus Aura Chamber Winds
Bear Marching Band
Purple Rage Pep Band
UCA Horn Ensemble
UCA University Chorus
MAJOR
Music Education
CLASS
Senior
BIG SIS
Chelsea Daniel
BIG BRO
Brian Balentine
LIL SIS
Emily Foster
Holly Horsey
LIL BRO
Richard Cutler
Jordan Talley
B R E N D A A C O S T A
2nd Vice President -- Sisterhood Chair
---
INITIATED
Spring 2009, Kristyn's Klassy Kompany
EVENTS ATTENDED
Events
INSTRUMENT
Horn
CURRENT ENSEMBLES
Wind Ensemble
MAJOR
Music Education
CLASS
Junior
BIG SIS
Emily Powell
BIG BRO
Amy Onda
LIL SIS
Jesse Turner
Rachel Lovvorn
LIL BRO
Abra Burdyshaw
Jordan Catlett
J E S S E T U R N E R
Treasurer
---
INITIATED
Spring 2010, Emily's Enharmonic Eskimos
EVENTS ATTENDED
Events
INSTRUMENT
Saxophone
CURRENT ENSEMBLES
Ensembles
MAJOR
Political Science
MINOR
Minor
CLASS
Sophomore
BIG SIS
Brenda Acosta
BIG BRO
Turner Pendergrass
LIL BRO
Clayton Reisbeck
A P R I L R O D R I G U E Z
Parliamentarian
---
INITIATED
Spring 2009, Kristyn's Klassy Kompany
EVENTS ATTENDED
Southwest District Convention 2011, 2010, 2009
Southwest District Day 2009
INSTRUMENT
Flute, piccolo, piano, bassoon, love to mess with drum set
CURRENT ENSEMBLES
Wind Ensemble,
Flute Quartet
Ursus Aura
Conway Symphony Orchestra (substitute or when piccolo/3rd flute is needed)
MAJOR
Music Education
CLASS
Junior (Fall 2011 Grad)
BIG SIS
Samantha White
BIG BRO
Kim Edwards
LIL SIS
Nicole Poe
LIL BRO
Jessica Trigleth (adpt)
M E R R I S P R O W
Recording Secretary
---
INITIATED
Year & Class
PAST OFFICES
Offices
EVENTS ATTENDED
Events
INSTRUMENT
Instument
CURRENT ENSEMBLES
Ensembles
MAJOR
Major
MINOR
Minor
CLASS
Class
BIG SIS
Big Sis
BIG BRO
Big Bro
LIL SIS
Lil Sis
LIL BRO
Lil Bro
K I R S T E N T R A I N O R
Service Coordinator
---
INITIATED
Spring 2009, Kristyn's Klassy Kompany
PAST OFFICES
Historian 2009-2010
EVENTS ATTENDED
Southwest District Convention 2010
Southwest District Day 2009
Arkansas Area 2009
INSTRUMENT
Trumpet, viola, mellophone, voice
CURRENT ENSEMBLES
Concert Band
University Choir
MAJOR
Applied Mathematics
MINOR
Honors Interdisciplinary Studies
Music
CLASS
Graduating Senior
BIG SIS
Allison Langston
BIG BRO
Brian Light
Mark Hiblong (adpt)
LIL SIS
Terra Kinder
Leah Lang
Emily Foster (adpt)
LIL BRO
Jack Higginbotham
Kandi Heard (adpt)


C H E L I T H A B R Y A N T
Public Relations Officer
---
INITIATED
Spring 2010, Emily's Enharmonic Eskimos
EVENTS ATTENDED
Southwest District Convention 2011, 2010
Arkansas Area 2011
Summer Leadership Conference 2010
INSTRUMENT
Colorguard, bass clarinet
CURRENT ENSEMBLES
Bear Marching Band Colorguard
MAJOR
Biology
MINOR
Addiction Studies
Treatment
CLASS
Sophomore
BIG SIS
Manda Smallwood
BIG BRO
Carlaskio Smith
LIL SIS
Whitney Hammons
E M I L Y F O S T E R
Historian
---
INITIATED
Spring 2010, Emily's Enharmonic Eskimos
INSTRUMENT
Trumpet
CURRENT ENSEMBLES
Bear Marching Band
Symphonic Band
Concert Band
MAJOR
Art Education
CLASS
Sophomore
BIG SIS
Courtney Hall & Whitney Strickland
BIG BRO
Clay Knych
LIL SIS
Margo Howerton
LIL BRO
Jessica Trigleth
J A T R I C E C R U M B L I N
Active Member
---
INITIATED
Year & Class
PAST OFFICES
Offices
EVENTS ATTENDED
Events
INSTRUMENT
Instument
CURRENT ENSEMBLES
Ensembles
MAJOR
Major
MINOR
Minor
CLASS
Class
BIG SIS
Big Sis
BIG BRO
Big Bro
LIL SIS
Lil Sis
LIL BRO
Lil Bro
W H I T N E Y H A M M O N S
Active Member
---
INITIATED
Year & Class
PAST OFFICES
Offices
EVENTS ATTENDED
Events
INSTRUMENT
Instument
CURRENT ENSEMBLES
Ensembles
MAJOR
Major
MINOR
Minor
CLASS
Class
BIG SIS
Big Sis
BIG BRO
Big Bro
LIL SIS
Lil Sis
LIL BRO
Lil Bro
E M I L Y H O L T
Active Member
---
INITIATED
Year & Class
PAST OFFICES
Offices
EVENTS ATTENDED
Events
INSTRUMENT
Instument
CURRENT ENSEMBLES
Ensembles
MAJOR
Major
MINOR
Minor
CLASS
Class
BIG SIS
Big Sis
BIG BRO
Big Bro
LIL SIS
Lil Sis
LIL BRO
Lil Bro
H O L L Y H O R S E Y
Active Member
---
INITIATED
Year & Class
PAST OFFICES
Offices
EVENTS ATTENDED
Events
INSTRUMENT
Instument
CURRENT ENSEMBLES
Ensembles
MAJOR
Major
MINOR
Minor
CLASS
Class
BIG SIS
Big Sis
BIG BRO
Big Bro
LIL SIS
Lil Sis
LIL BRO
Lil Bro
M A R G O H O W E R T O N
Active Member
---
INITIATED
Year & Class
PAST OFFICES
Offices
EVENTS ATTENDED
Events
INSTRUMENT
Instument
CURRENT ENSEMBLES
Ensembles
MAJOR
Major
MINOR
Minor
CLASS
Class
BIG SIS
Big Sis
BIG BRO
Big Bro
LIL SIS
Lil Sis
LIL BRO
Lil Bro
T E R R A K I N D E R
Active Member
---
INITIATED
Year & Class
PAST OFFICES
Offices
EVENTS ATTENDED
Events
INSTRUMENT
Instument
CURRENT ENSEMBLES
Ensembles
MAJOR
Major
MINOR
Minor
CLASS
Class
BIG SIS
Big Sis
BIG BRO
Big Bro
LIL SIS
Lil Sis
LIL BRO
Lil Bro
L E A H L A N G
Active Member
---
INITIATED
Spring 2011, Whitney's Wacky Warriors
INSTRUMENT
Clarinet
CURRENT ENSEMBLES
Ensembles
MAJOR
Major
MINOR
Minor
CLASS
Freshman
BIG SIS
Kirsten Trainor
BIG BRO
Abra Burdyshaw
R A C H E L L O V V O R N
Active Member
---
INITIATED
Spring 2011, Whitney's Wacky Warriors
EVENTS ATTENDED
Southwest District Convention 2011
INSTRUMENT
Clarinet
CURRENT ENSEMBLES
Symphonic Band
Bear Marching Band
MAJOR
Music
MINOR
Minor
CLASS
Sophomore
BIG SIS
Brenda Acosta
BIG BRO
Justin Legris